Me with Tono in a lesson!
TONO IS GETTING BAPTIZED AND SENDS HIS LOVE!!!!!!!!!!!!!!!!!!!!! AHHHHHHHHHHHHHHHHHHHHHHHHHHHHHHHHHHHHHHHHHHHHHHHHHHHHHHHHHHHHHHHHHHHHHHHHHHHHHHHHHHHHHHHHHHHHHHHHHHHHHHHHHHHHHHHHHHHHHHHHHHHHHHHHHHHHHHHHHHHHHHHHHHHHHHHHHHHHHHHHHHHHHHHHHHHHHHHHHHHHHHHHHHHHHHHHHHHHHHHHHHHHHHHHH. HE is ALWAYS talking about you mom! He told me 4 times this week to make sure I sent you his love and to the Family. The man is amazing! He already wants assignments to go teach. The Lord has answered my fervent prayers because he went from not being able to walk to practically fast walking up and down hills with us! He has progressed so fast. Funny thing is is that he didn't have any ties (He is poorer than poor) So I gave him two of mine. The first time he wore it EVERYONE in the streets was shouting his name yelling Que Guapo!!!

(How handsome!)

It was amazing. The smile on his face made my week.
And his new Tie! His favorite color is ... GREEN! He wanted me to take some pictures and send them to you!!!
A mother's love, intuition and gift of the Spirit
First you need to know about my e-mail to Elder Hefner - this is what I said to him:
I forgot...WATCH OUT FOR SMALL LIGHT BLUE CARS!!!
I know the Lord will protect you BUT ...I was awake on Sunday and saw a small light blue car that was going to hit you as you crossed the street. The car was making a left into the street and did not realized you were crossing... You know me...just a warning.
sort of like this but
In this color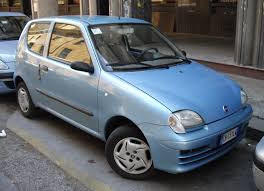 I love you! YES, YOU CAN TELL YOUR COMPANION THAT YOUR MOTHER IS CRAZY!!
XOXOXOXOXO
This is what Elder Hefner wrote in his e-mail:
Also today I had a very interesting thing happen... We had planned on going golfing today but last night I had a incredible bad feeling about it... This morning I prayed for a double confirmation about it and it came again. I even bought a polo shirt for it... I was so excited.. as was my companion. I debated going or not, but I have learned too many times that not listening to the Spirit has led me into dangerous paths. I prayed the Lord would touch my companions heart. I then heard him call the other Elders and tell them, then he said ¨And Yea I have the same feeling too".¨The other Elders in our Area didn't question it and the Other two Elders gave a little bit of a hard time but eventually just said ok.. It was a huge point for me of courage..
Mother's Day SKYPE Call
I am skyping from the Home of Hermano Cruz... Honestly they are my second family here. They feed us once a week and just have such a love for the missionaries. I have headphones and a microphone though!

(Our thanks will never be enough to Brother Cruz and his family)
I CAN´T WAIT TO SEE YOU ALL SUNDAY!!!
A companions dream
Hey Dad don´t worry about me being homesick... That has been conquered completely!! I also told my companion that we need to be doing more. I don´t think we have been doing enough and frankly I think we have the Potential to be a great example to the Mission... But in other news... I HAVE STARTED LEARNING CREOLE!!! It is for a Haitian family we are teaching... Also last night my Companion had a dream that President Douglas changed his mind and wrote me a letter saying I would be transferred to a very Specific Area with the 2nd highest Haitian Population in the Island.. After that he Said I would be Transferred to Da Jabon for the Rest of my Mission... It is ALL Haitians... As I started learning the Language I was beyond excited and touched with the Holy Ghost... It actually felt more natural for me to speak than Spanish.. My Comp Believes I should have been called to speak it originally... So we will see if your feeling comes to pass... I hope it does. I can´t begin to tell you how much I love these people... Thanks for your love dad!! Talk to you Sunday!!
Me with my Haitian Family that I am learning Creole For!! Yes, we have the opportunity to teach many Haitians... It is honestly something Incredible...
Guess what!! I am using a portion of the money Amy sent to surprise Tono.. His house is so beat up and run down.. So I am buying Paint and we are going to surprise him and paint his house... He wants it the same color and I already confirmed it secretly!!!
I love you too!!!! I can´t wait to see you all and my boys!!! Fair warning I am darker than Abuelo... lol But I have to go!!! Talk to you later!! LOVE YOU ALL!!!!!!!!!!!